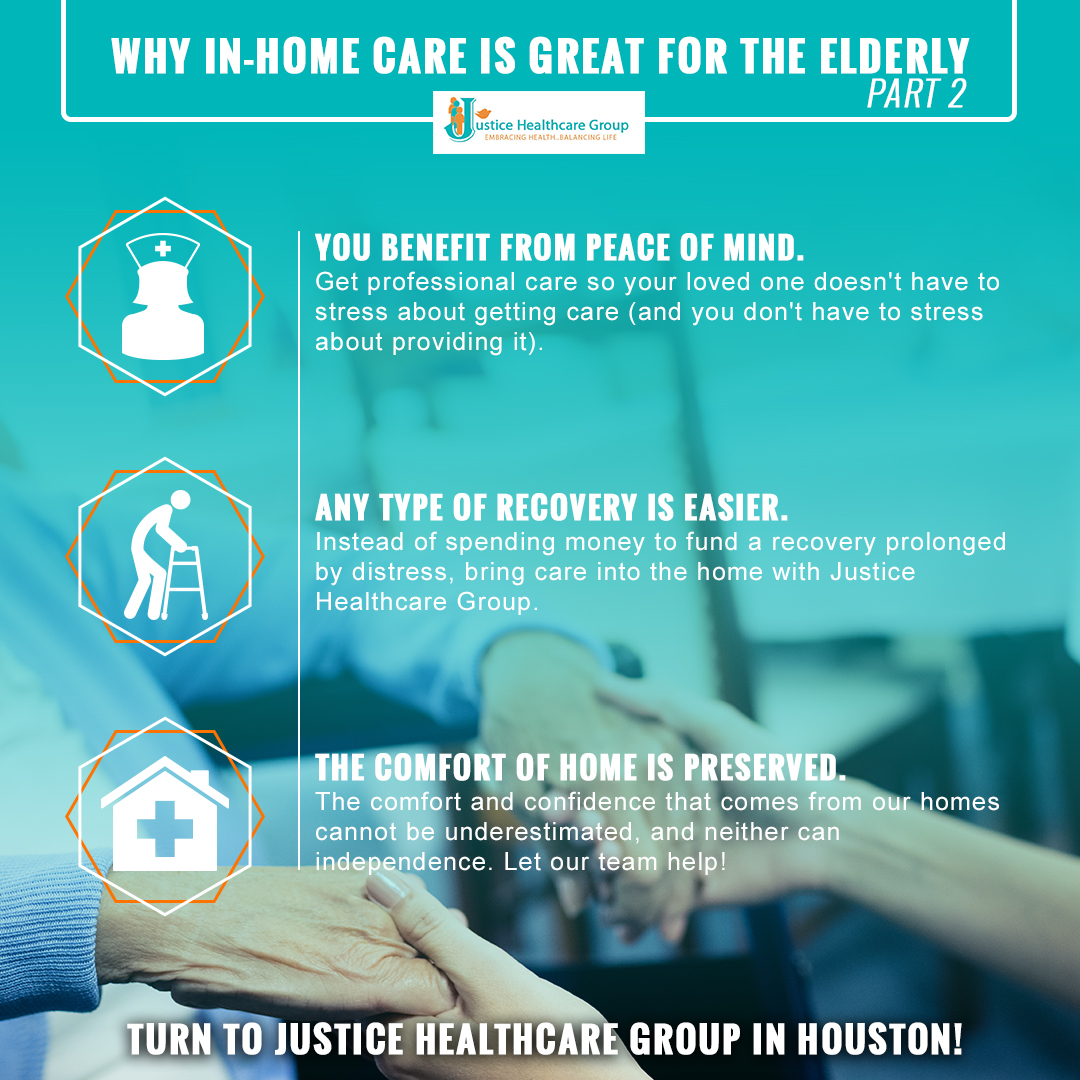 Senior care has come a long way from the grim nursing homes or burdened families that used to define it. Today, seniors and their families have a wide array of options at different price points. As a result, it is usually possible to find a solution that actually works. Of course, the complexity of the system can make finding that perfect solution rather daunting. Add in the emotional aspect of getting older and needing more care, and we aren't surprised that people and their families avoid finding solutions until something drastic happens, like a falling accident. However, avoiding the problem until things get really serious is a recipe for disaster. It's not just that; it's also unnecessary.
For many people, the idea of leaving home in order to access the proper care is a very painful prospect. When life is hard, losing access to home can make things even more difficult. The good news is, the care can come to you. At Justice Healthcare Group, we are passionate about bringing world-class care to the homes of Houston, enabling people to stay where they are comfortable and close to family. In our last blog, we discussed three reasons why in-home care is a fantastic option for seniors. Today, we have a few more reasons why you should seriously consider our services!
Why In-Home Care is Great for the Elderly
You benefit from peace of mind. In-home care isn't just great for patients; it's great for their loved ones. Knowing a person dear to you can relax at home and have care brought to them goes a very long way when it comes to peace of mind. At the end of the day, it is impossible for amateur caregivers to provide everything their loved ones need. Get valuable help so your loved one doesn't have to stress about getting care and you don't have to stress about providing it.
Any type of recovery is easier. Many people fear losing independence more than they fear death. When they get stuck in hospitals or nursing homes for recovery from operations, the road can become much more difficult simply because they are surrounded by strangers in a strange environment. Instead of spending money to fund a recovery prolonged by distress, bring the care into the home with Justice Healthcare Group.
The comfort of home is preserved. The comfort and confidence that comes from our homes cannot be underestimated, and neither can independence. Whether it's getting through a hard day or recovering from serious surgery, the best place to be is at home. Home helps the elderly stay close to their loved ones and bolsters their emotions by surrounding them with familiar settings they enjoy. Home doesn't have to go away! With our help, you or your elderly loved one can stay.
 Turn to Justice Healthcare Group
Life is full of challenges, but when you have the help of professionals, the journey gets that much better. Let us come alongside you or your loved one and provide great home health care in Houston today!